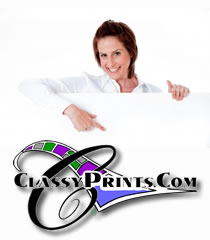 Thanks for stopping by! When you purchase from ClassyPrints.com you'll receive personalized, professional service! In the printing business since 1964, we know how to get the job done! Whether you're buying a banner, vehicle wrap, business sign, decal, sticker, or corrugated yard sign you are buying more than a simple sign.
You're making an investment in your company's brand and sending a message to the world that this is your business.
We believe that any job, from one decal or sign to thousands, available in all shapes, sizes and colors, represents a significant financial investment for you and you deserve to have the job done right the first time. That's why we will help you develop a cost-effective solution that meets your needs.
Magnetic Signs & Vehicle Wraps